There is no such thing as a competitor.
Leading companies in complex, interdependent marketplaces increasingly realize that the notion of the market as a zero-sum game is a limiting one. Competition (or collaboration) occurs not so much between companies, but at specific levels and segments of industries and markets, and at specific levels within companies. In the technology and fintech space, many companies already have multi-dimensional relationships with other firms in their ecosystem. The challenge is that a large majority of executives see these relationships as a necessary evil, rather than a strategic advantage, and therefore consistently make choices that reduce the ROI of these relationships.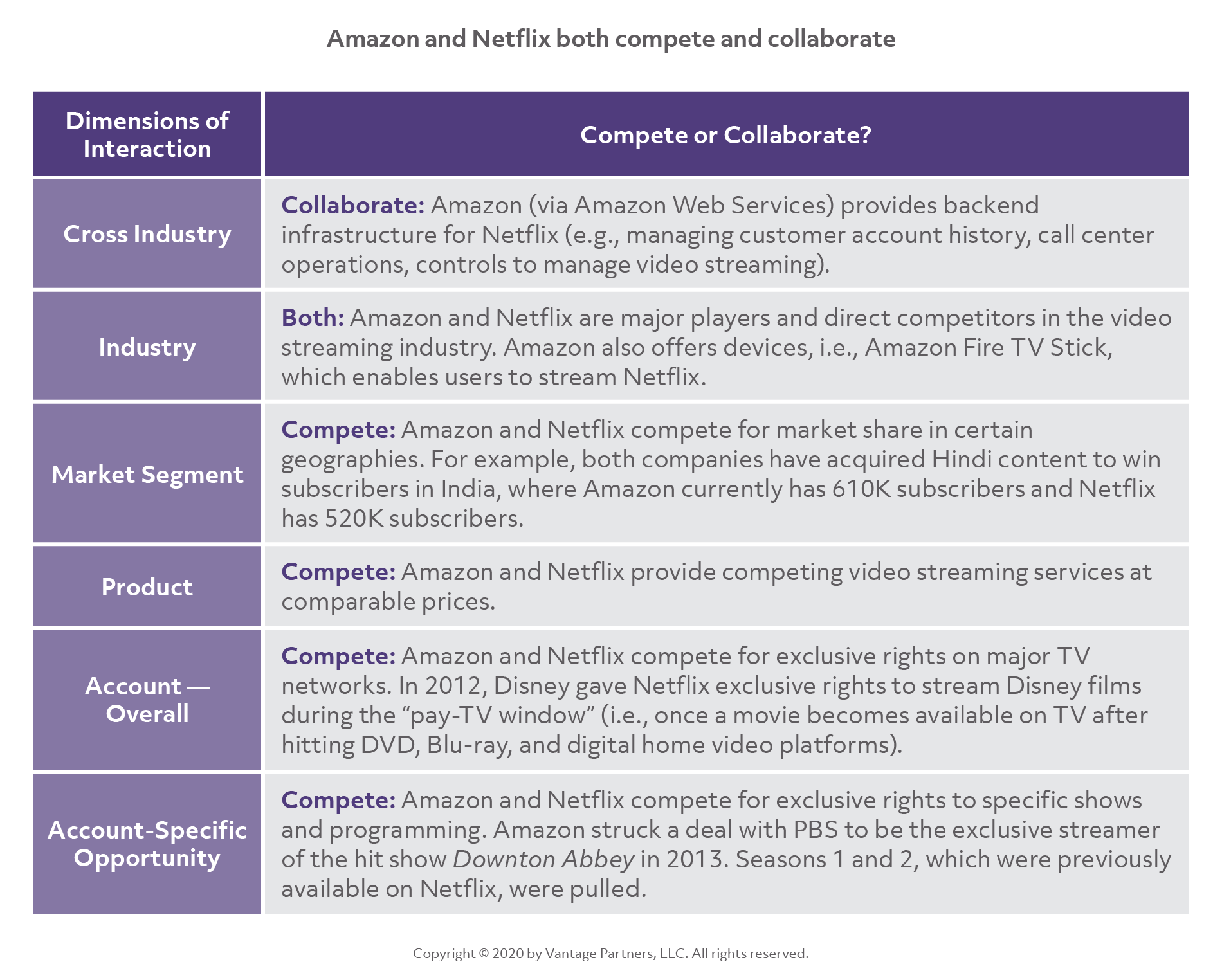 Can it really be strategically smart to collaborate with my biggest competitors?
We could trot out all sorts of management theory to explain why it can be beneficial to collaborate with a company in one arena, while competing aggressively in another arena. But, we suspect 100 words on management theory won't convince a skeptic. So, don't trust us or the theory – look to what others are doing:
36% of companies report that they compete "a great deal" with their business partners (Vantage Partners Coopetition 2020 Coopetition Survey)
On average, companies expect 23% of their success over the next five years to come from collaboration with their competitors.
Netflix and Amazon have a complex relationship, collaborating where they can, and fiercely competing elsewhere. See the sidebar for examples of how they collaborate and/or compete at various levels.
BMW and Toyota. These two companies compete at the industry level, but partnered to develop fuel cell technologies to maintain their edge as leaders of the hybrid car market, and even collaborated on development of a car to compete directly with Porsche's Cayman GT4.
While Bank of America, BB&T, Capital One, JPMorgan Chase, PNC Bank, US Bank, Citi, and Wells Fargo all compete with one another for retail banking customers, they all participate in a joint venture, Zelle, which allows peer-to-peer, instant payments across banks.
Okay, but coopetition is hard. How do I make it work?
We have found that companies who successfully leverage coopetition strategies hold a few key mindsets, and follow a small set of best practices.
Critical mindsets
Our most strategic partnerships are almost always going to have some element of competition – because the companies who can bring the biggest lift to our business are also the ones who could, if they chose, be a major rival (or enable our major rivals).
We're often better of getting a slice of the action across the entire addressable market than holding out for the market domination – because we have limited time and resources. So, if we aren't going to be able to serve some customer segments better than anyone else immediately (or, hey, ever), why not partner with someone who is capable of going after those segments?
Companies are not people [site WSJ article] they are comprised of lots of people. One team can be our best friends, another can be our biggest rival.
Critical practices
Actively explore how to preempt or respond to competitive threats by collaborating with competitors – as done by 80% of companies who complete "a great deal" with their business partners (Vantage Partners Coopetition 2020 Coopetition Survey)
Invest in a team of people who can build their skill in managing complex, strategic relationships and give them the authority, and responsibility, to facilitate tough dialogues between internal and external executives when competition in one area is making key collaborations challenging
Establish a few tools and processes that help leaders see when their biases against (or for) "competitors" are clouding their judgement, and that enable them to make fact-based decisions
This piece is part of our Fintech and Financial Services series.