More than 2,500 supply management professionals gathered in Houston, Texas in April for the 2019 Institute for Supply Management annual conference. Across the conference's more than 70 breakout sessions and three keynotes, five key questions emerged as the focus of many supply management professionals in attendance.
As the markets for skilled labor become more competitive, how do I attract, develop, and retain top talent?
Recent research cites as many as three-quarters of companies rank 'access to critical talent' as a key risk, and among supply management professionals in attendance at the ISM annual conference, the concern seemed to be even more prevalent.
Dr. Janet Yellen, former Chair of the Federal Reserve Bank highlighted in her keynote that "technology and automation have boosted demand for skilled labor, especially in supply chain."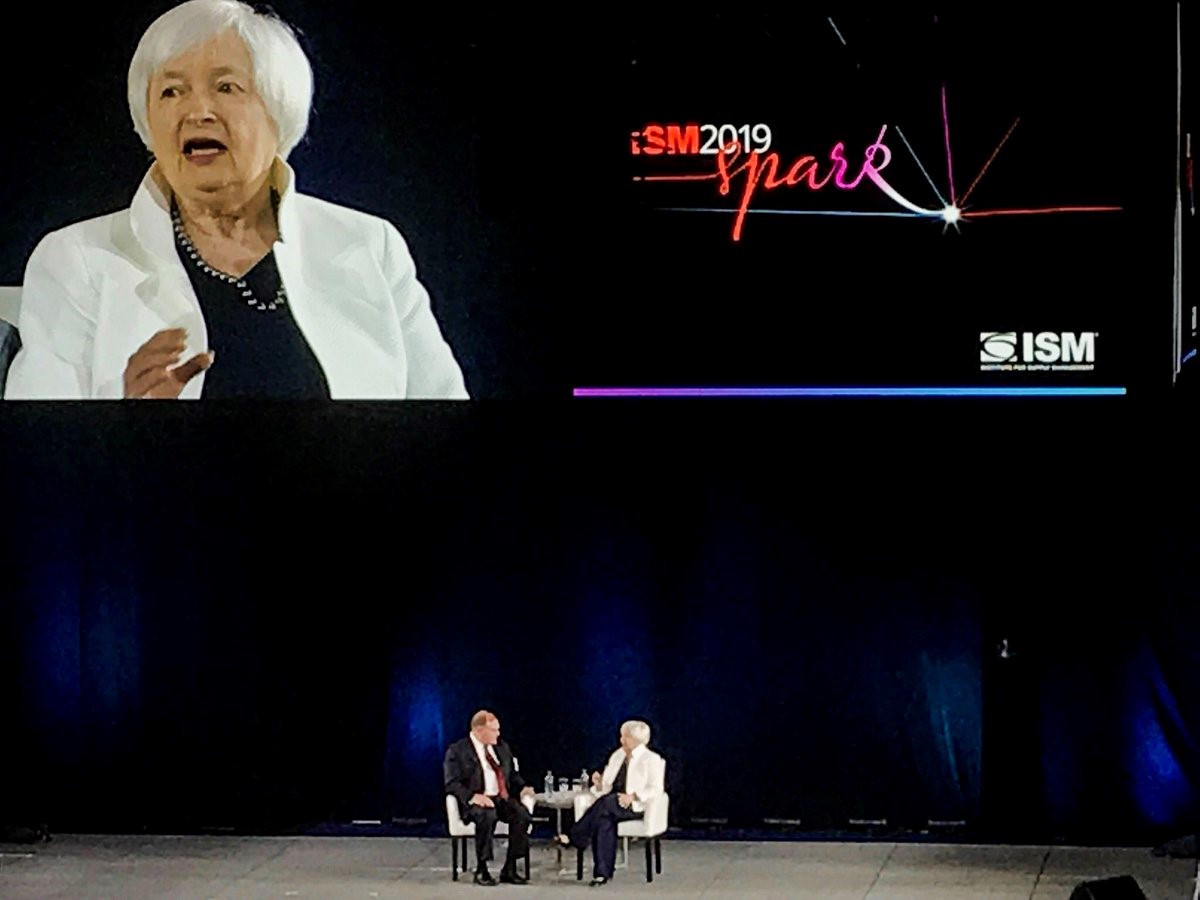 Supply management professionals at the conference agreed that top talent of the future must excel at leadership, strategic thinking, influence, and high-level analytical and technological skills. However, CAPS Research shared data from their 2018 research that found the average supply management organization is comprised of 65% tactical employees and 35% strategic employees. That number is declining year over year, yet supply management leaders are still struggling with how to skill up their teams to meet the future needs of their organizations and where gaps still exist, recruit and then retain top talent.
Jon Hughes from Vantage shared a framework for finding, developing, and retaining talent in his session in the CPO experience (figure below), in which he recommended supply management actively recruit from other functions and from customers and suppliers, and use on-demand talent platforms . Similarly, procurement leaders from Sprint, BASF, thyssenkrupp, and more highlighted the need for supply management organizations to prioritize talent development, think creatively about from where and how to recruit talent – including leveraging flexible workforces, and engage differently with Millennials who will be the future of the organization.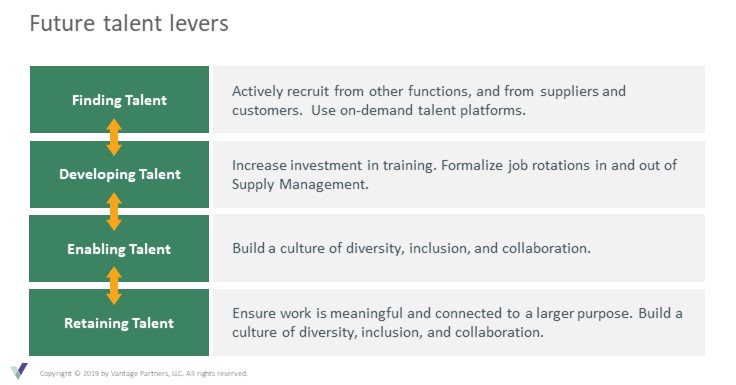 How can my organization leverage digital (AI and automation) to increase efficiency and effectiveness?
The economy and pace of technology disrupters led Inc. Magazine to predict half of the S&P500 will be replaced within 10 years. Charlotte De Brabandt, 2018 ISM 30-Under-30 Megawatt winner shared in a breakout session for the conference's Digital Track that leaders, to maintain their edge, have to "embrace the transformation" to lead their teams into the digital age.
ISM and Zycus shared recent research at the conference highlighting that many organizations are taking the first steps towards implementing AI and RPA (robotic process automation) as part of larger source-to-pay transformations. Dr. Hugo Evans reinforced the need for this trend, noting in his session on The Future of Procurement Technology, "If it's not value-creating, automate it... We shouldn't be creating spreadsheets or chasing pennies."
Still, research shared by Zebra Technology found that only 33% of procurement leaders believe their digital strategy actually delivers value. When asked how to ensure supply management technology investments produce ROI, Stan Garber of ScoutRFP stated that procurement needs to learn from other technology transformations, like the shift to online ordering by Domino's Pizza. Focus on convenience, simplicity, and ease first, over complex features that users will be slow to adopt.
How do I build better relationships with my internal stakeholders and identify value that supply management can deliver – beyond just generating cost savings?
Dr. Bernd Huber, the head of Google's global Sourcing Center of Excellence, asked the packed room at his session on Aligning Stakeholders how many had a CRM system for managing internal stakeholders. The response? Only one did.
He then shared that Google segments their internal stakeholders and defines different engagement models for each, including those where a trusted advisor relationship was critical to delivering on the value from their supply management efforts. As his colleague, Tim Jones, the Head of Strategic Sourcing, Indirect at Google added, "To be a trusted advisor you need to have the expertise, a point of view, and the skills to land that message." This requires investing time and effort into understanding the needs of your stakeholders, then identifying how supply management can leverage supplier assets to build competitive differentiators for those stakeholders' businesses.
The team at Google weren't the only ones discussing the need to build deeper stakeholder relationships. As Cindy Bishop from Shell reminded attendees at her panel discussion, "HR doesn't get flowers for delivering your paycheck on-time every month... You don't get rewarded for doing what's expected... Talk to your stakeholders about what matters to their business. Earn your seat at the table."
How do I identify and capture the "next wave" of value from my suppliers?
Dr. Janet Yellen, former Chair of the Federal Reserve acknowledged what many supply management leaders have seen – the low hanging fruit of cost savings has already been picked. "In the last few decades, there has been enormous growth in global trade — and most of that is related to supply management. [We] figured out how to fragment supply decisions to take advantage of the abilities and particular strengths of different countries and regions, and integrate components from all over the world. This growth has slowed," Dr. Yellen noted. Participants grappled in the Sourcing for Value track with where this next wave of value would come from.
As Jon Hughes proposed in his session on the Supply Management Competencies of the Future, the next wave of value will come as procurement continues its evolution, from a function that sources goods and services to a strategic business partner focused on sourcing solutions and innovation.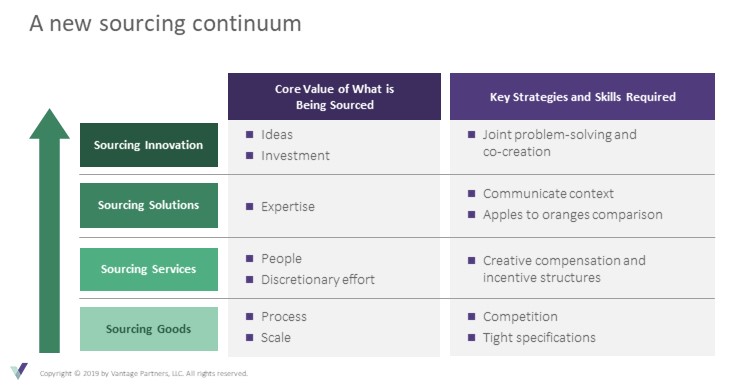 Other leaders voiced similar perspectives. According to Cindy Bishop, General Manager of Procurement at Shell, sourcing for value is "whatever propels the business forward or is relevant to the business — versus our prior myopic focus on cost reduction." Evelyn MacLean-Quick, CPO and Head of Global Supply Chain at Hess shared that her organization has instituted an ethos of fewer, deeper and stronger supplier relationships to drive more value for the organization, while Doug Roginson, Executive Director of SRM at JPMorgan Chase similarly noted that his organization is focused on becoming the #1 customer of their suppliers through high-touch engagement and significant investments in SRM and enabling technologies. These recommendations are aligned with recent Vantage Partners research which found organizations have formal SRM programs focused narrowly on their most strategic suppliers realize significantly more value from their supplier relationships.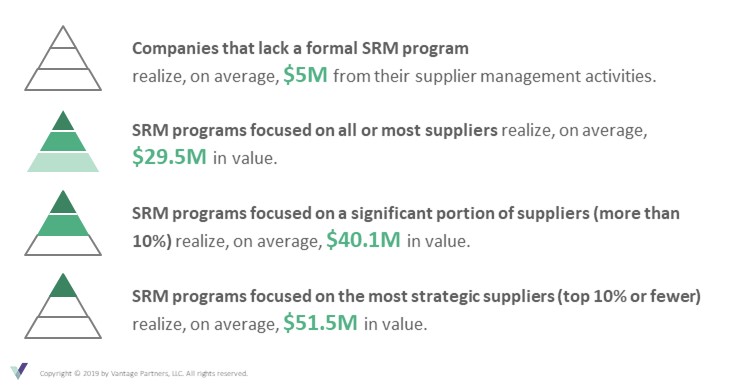 How do I lead and help my supply management organization navigate change as we transition from tactically-oriented to strategic?
As Carly Fiorina, former CEO of Hewlett-Packard, stated in the conference keynote, "Why do problems fester? The status quo is powerful, even when it's annoyingly bad. People are invested in the way things are. If you're going to change the order of things for the better, you have to first ask why it's so hard to change things." Many conference attendees and presenters spoke about the challenges they've faced, and what they've learned, as they attempt to change the status quo role of procurement and adopt new digital strategies.
Jami Bliss, Global Head of the Procurement Center of Excellence at GlaxoSmithKline, shared the advice that transformation doesn't stop with optimized structures and processes. "You need to bring others along on the journey — create a case for change and articulate the rationale in a way that resonates. Be clear in what you need from them for success." Lisa Martin, the CPO at GSK added two lessons she learned from GSK's transformation: "Honor the past - engage internal stakeholders & suppliers to understand how they view your org, even if you know wholesale change is needed. Then move swiftly to create a vision of the future."
The Vantage team is thrilled to welcome the 2020 ISM Annual Conference to our hometown of Boston, MA, and look forward to another year of progressive thought-leadership, skill-building, and enhancing the value delivered by supply management. We hope to see you all in Boston, as together we work to answer these big questions and evolve the supply management profession.
Read other insights from the 2019 ISM Annual Conference by searching #ISM2019 on Twitter and LinkedIn.
To download a copy of Jon Hughes's presentation at ISM 2019 on the Future of Supply Management Competencies, click here.