Maximizing the Value Realized from Strategic Sourcing
Procurement is, in many ways, a victim of its own success. As recently as 10 years ago, there was significant value to be gained by using competition to motivate better supplier performance and re-balance supplier profit margins and customer costs. The low-hanging fruit has been picked though, and supply management organizations are looking for new sources of value to deliver to their internal business partners. Recent Vantage research finds that leading companies, on average, realize 63% more of the value they target through strategic sourcing than the average company.
Value Realized From Strategic Sourcing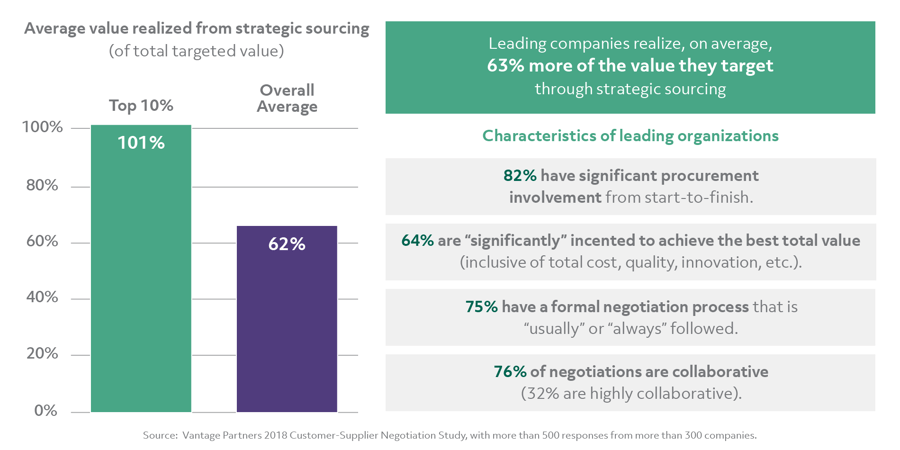 Unlocking that value is dependent on a mindset shift by procurement, from a traditional sourcing paradigm that focuses on cost reduction through supplier competition, to one that prioritizes internal and external collaboration to drive innovation.
The Evolving Role of Procurement and Supply Management Organizations
Traditional Sourcing and Supply Management

Leverage over suppliers
Focus on internal stakeholder compliance
Analytical skills
Primary value is cost reduction/management
Manage transactions
Secure external supply of goods and services
Own/execute

New Sourcing and Supply Management Paradigm

Engagement with suppliers
Trusted advisor to internal business partners
Soft skills
Primary value is competitive advantage
Manage relationships
Solve business problems
Facilitate/enable
As organizations shift to the new procurement paradigm, they similarly transition up the Vantage Partners Supply Management Maturity Model (below). They more closely align procurement and supply chain activities with enterprise business strategy and operations. They engage more frequently with cross-functional stakeholders. Consequently, they tend to realize more value from their procurement and supply management activities.
Over the past several decades, Vantage's research and work with clients has focused on helping sourcing and supply management organizations transform to meet the changing environment they operate in and capture the next wave of strategic value that comes from innovation from and with suppliers.
Supply Management Maturity Model