Originally published in California Management Review Insights — 26 September 2021
How many of your company's customers work with you primarily because they lack a better current alternative — because they feel like they have to, not because they want to? The answer to that question is likely to determine your company's future.
Customer-centricity has become a hot topic, and Vantage Partners' recent study of 250 individuals at 180 B2B companies demonstrates why. Over the past five years, companies reporting a "very mature" level of customer-centricity experienced 2.5X revenue growth com­pared with those reporting their company was "very immature." Previous research from Forrester similarly showed that market leaders in customer experience enjoyed ~450% greater CAGR, compared to market laggards, during the period of 2010-2015.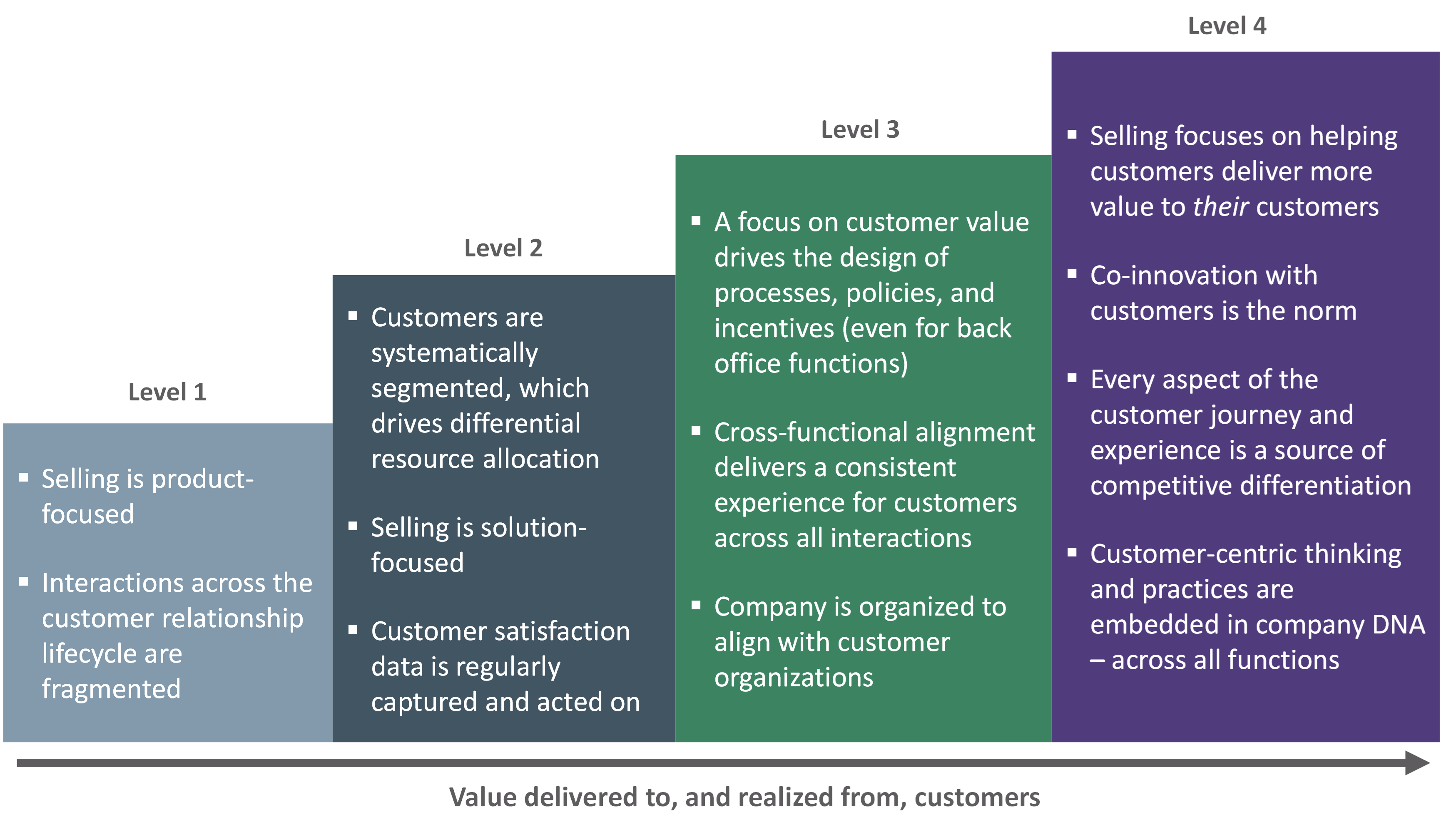 Genuine customer-centricity requires transforming all enter­prise functions that affect customers, breaking down the silos between those functions, and building a culture that rewards behaviors aligned with customer success. To help companies assess their efforts and guide their invest­ment and transformation, we have developed a model that defines four distinct levels of customer-centricity. Based on our research and extensive work with clients on cus­tomer-centricity initiatives, a majority of companies function at levels two or three. Only about 9% of companies operate in a truly customer-centric manner, with manufacturers (5%) at the low end and high-tech companies (19%) at the high end, on average. These numbers indicate an attractive opportunity for companies to differentiate themselves by enhancing the way they engage with and deliver value to their customers.
What should market leaders do to put the customer at the center of their business? Their starting point, as this article for California Management Review explains, is to embed customer-centric thinking and practices in company DNA — across all functions.