My colleague Jonathan Hughes, one of the partners at Vantage Partners, was recently invited to share current (and ongoing) research and case studies on joint innovations with suppliers. In the webinar hosted by the Institute for Supply Management, Jon—who serves on ISM's Thought Leadership Council—focused on insights and best practices directly relevant to challenges posed by COVID-19. More than 300 ISM members participated in the event; ISM members who missed the live session can access the recording in the On-Demand section on the ISM website.
Four key takeaways emerged from the webinar:
1. COVID-19 and the resulting economic recession will have a significant impact on relationships with suppliers.
Leading economists and market analysts appear aligned on one conclusion: a recession is coming and indeed has likely already begun. The impact on companies will vary significantly by region and industry sector; the depth and duration of the recession, and speed of recovery from it, remain uncertain. As Jon noted, "All this creates great stress on our supply chains, our suppliers, and our relationships with them."
Procurement and supply management organizations play a central role in how their companies will manage uncertainty and respond to COVID-19 disruptions to operations, and associated economic turmoil. How much, and for how long, will our company's revenues be reduced, and how shall we adjust production accordingly? How can we maintain supply chain continuity when many of our suppliers, and their suppliers, are under extreme financial pressure? Enlightened self-interest requires that we assist key suppliers—but which ones, and to what extent, recognizing that, as in the last recession, many weaker suppliers are likely to go out of business no matter what we do?
Jon cited research by PYMNTS.com indicating 26% of small and medium sized businesses (SMBs) doubt they'll survive, and another 37% said they were unsure if they would. He noted, "Most of our supply chains include a significant number of SMBs, and some of them are much more critical than their size or our spend with them would suggest." In addition, 64% of attendees noted an increase in supplier contract renegotiations related to the COVID outbreak in a poll conducted during ISM's April 8 COVID Coronavirus Outbreak Status Update webinar (although only 8% noted a "significant" increase). More than a third of those participants said they expect to see increased triggering of force majeure clauses by suppliers due to COVID (Figure 1).
Figure 1: Impact of COVID-10 on supply agreements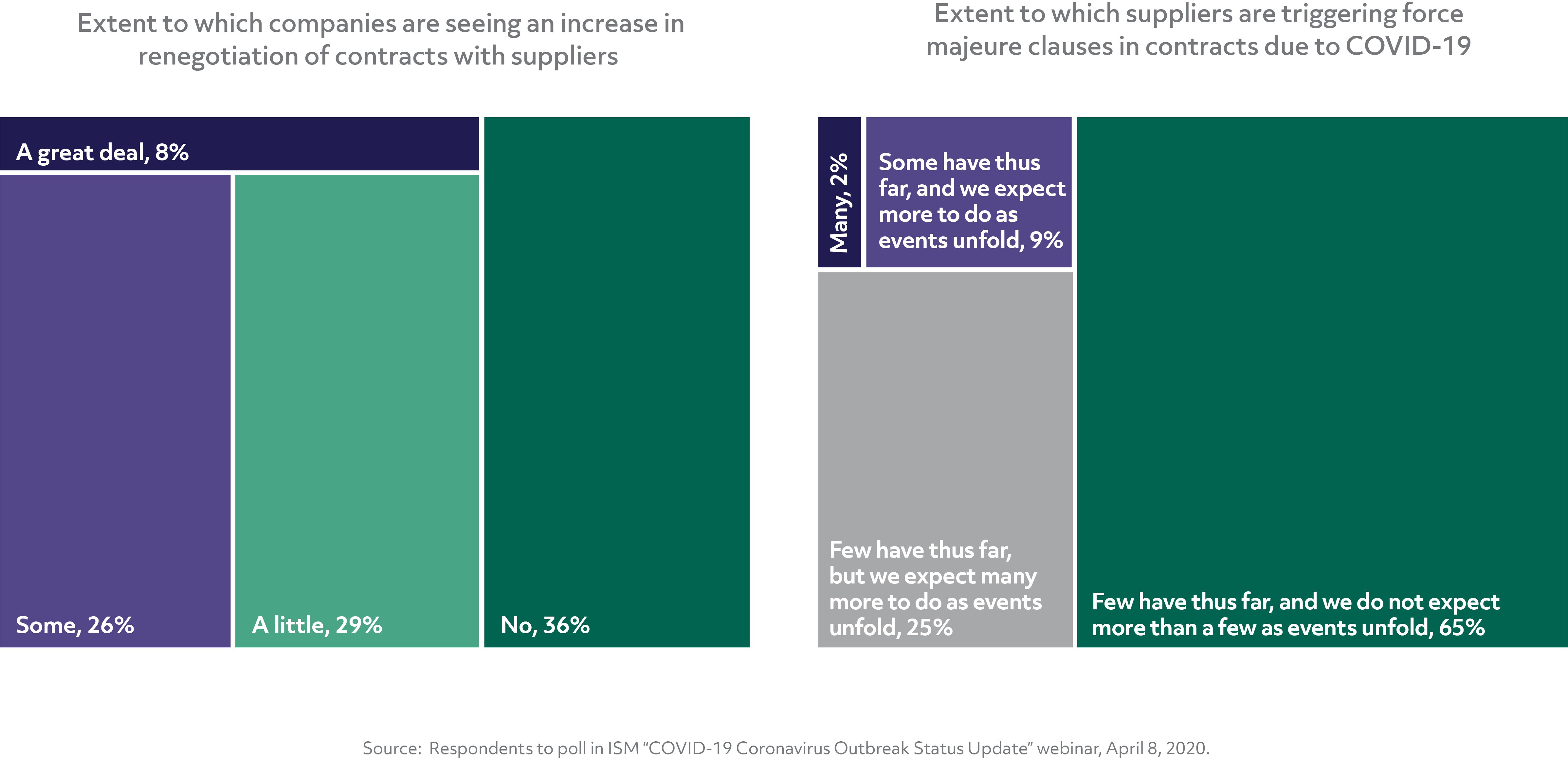 As Jon shared in the webinar, while there is a strong tendency for individuals and organizations to hunker down and focus on self-preservation during times of crisis, a better path is close collaboration with between customers and their key suppliers.
2. Companies should focus more on sourcing business solutions and innovation (versus sourcing products and services).
During the webinar, Jon presented a framework for thinking about sourcing activities (Figure 2). This framework is not intended to replace Peter Krajlic's sourcing matrix first published in Harvard Business Review in 1983; rather, it provides a different way of looking at the types of sourcing activities a company performs and their associated value drivers.
Figure 2: A new sourcing continuum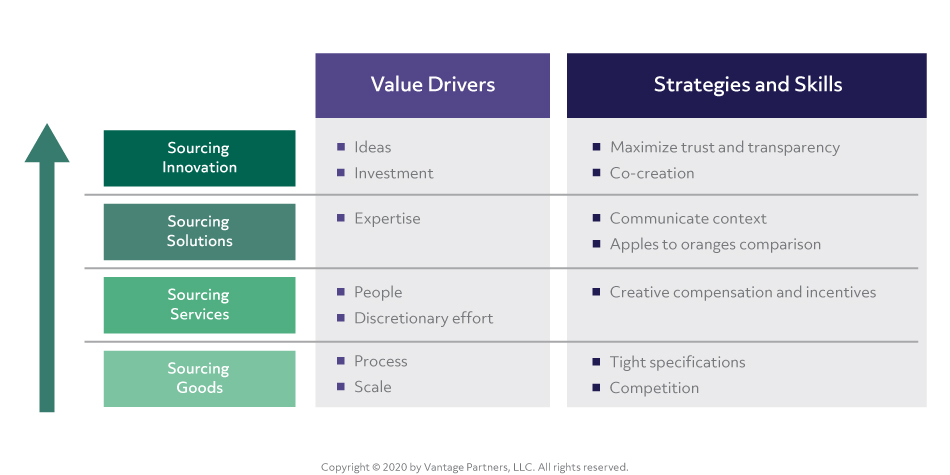 What's fundamentally different about sourcing solutions or innovation? It requires "more information-sharing and transparency with suppliers" Jon explained. "Rather than figure out internally how to reduce costs, or improve output, or overcome supply chain bottlenecks and then ask a supplier to propose how they would implement your solution, you explain the problem, and ask for their creative ideas on how to address it."
He noted—and webinar polling data confirmed—most companies see the value in sourcing business solutions and innovation, and most believe their companies should do much more of it. There's a large gap, however, between those aspirations and the current amount of sourcing activity focused in these areas. (Figures 3 and 4)
Figure 3: Actual versus idea allocation of sourcing activities: March 2019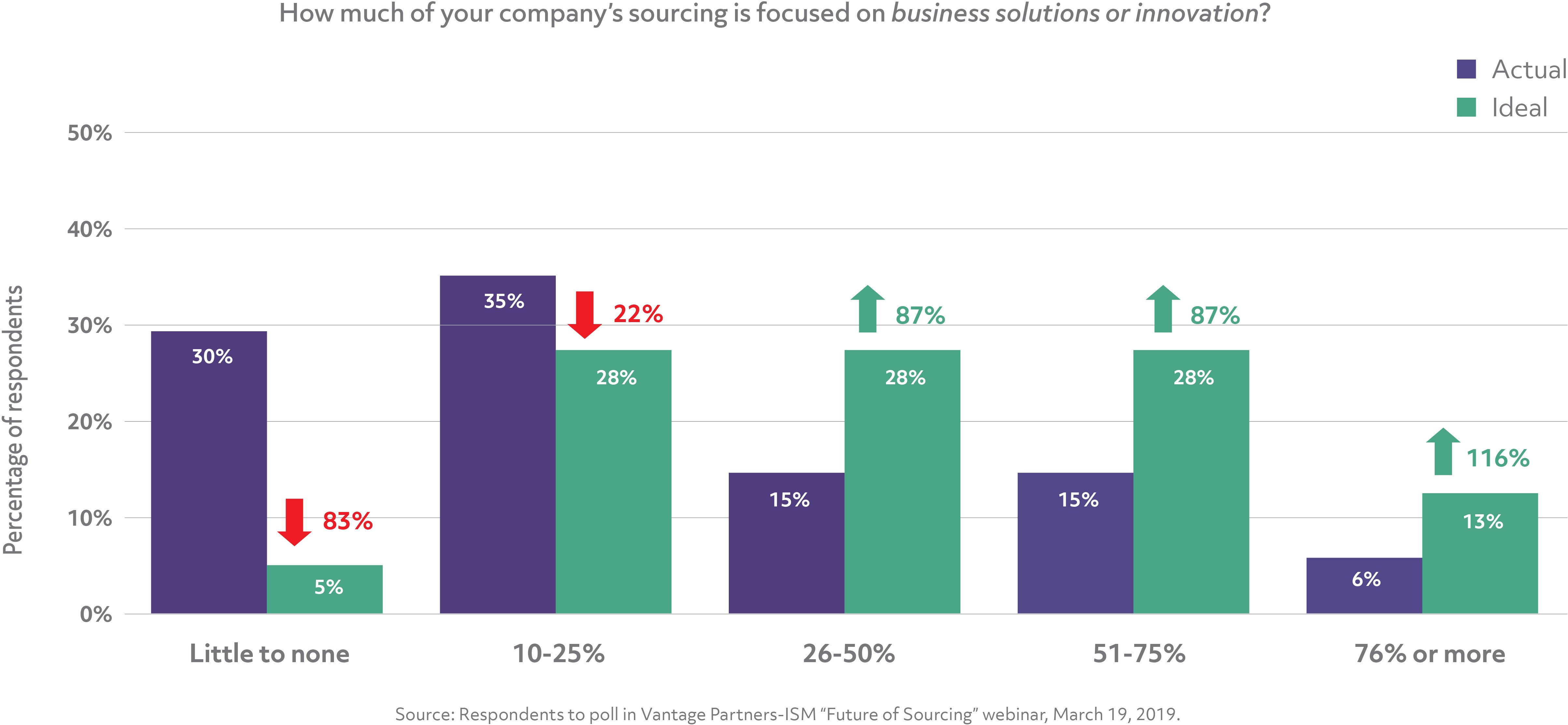 Figure 4: Comparison of pre and post COVID-10 sourcing focus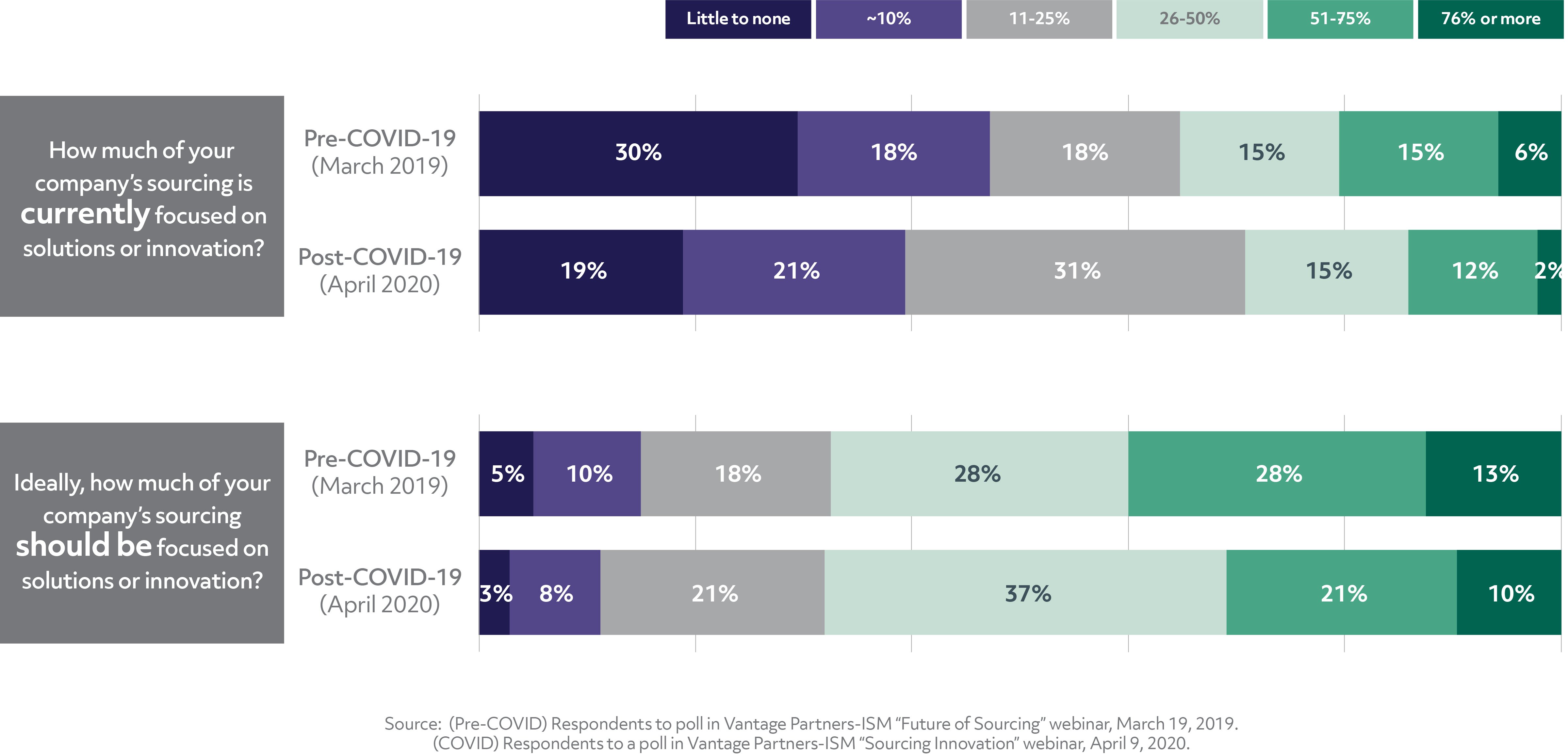 3. To succeed in turbulent times, supply management professionals need to ask different questions and work with suppliers in different ways.
So how do organizations make this shift to sourcing solutions and innovation in a collaborative way—even, or especially, in the face of uncertainty and financial pressures? "It really begins with a simple but profound change in how we view our suppliers," Jon noted. (Figure 5)
Figure 5: Two views of suppliers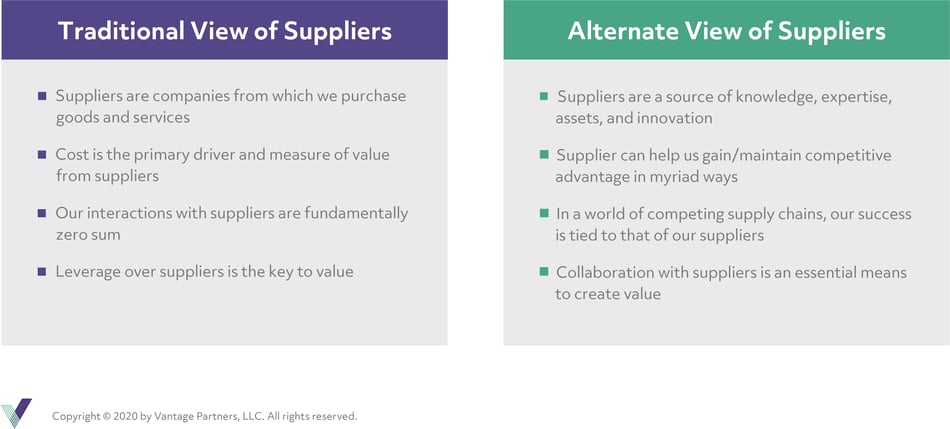 "That naturally leads to a focus on not just 'What products or services does the supplier provide?' but instead 'What are their underlying capabilities and unique expertise? What new technologies are they working to develop?'" Jon explained, emphasizing, "We need to tap into and leverage those underlying assets to get innovative solutions. And within our own organizations, we need to make sure we are encouraging and rewarding that kind of collaboration and creativity."
Jon shared a set of simple questions, derived from decades advising both procurement and sales clients on how they can and should shift the types of conversations supply management professionals have with their suppliers (Figure 6).
Figure 6: To get more value, we need to ask different questions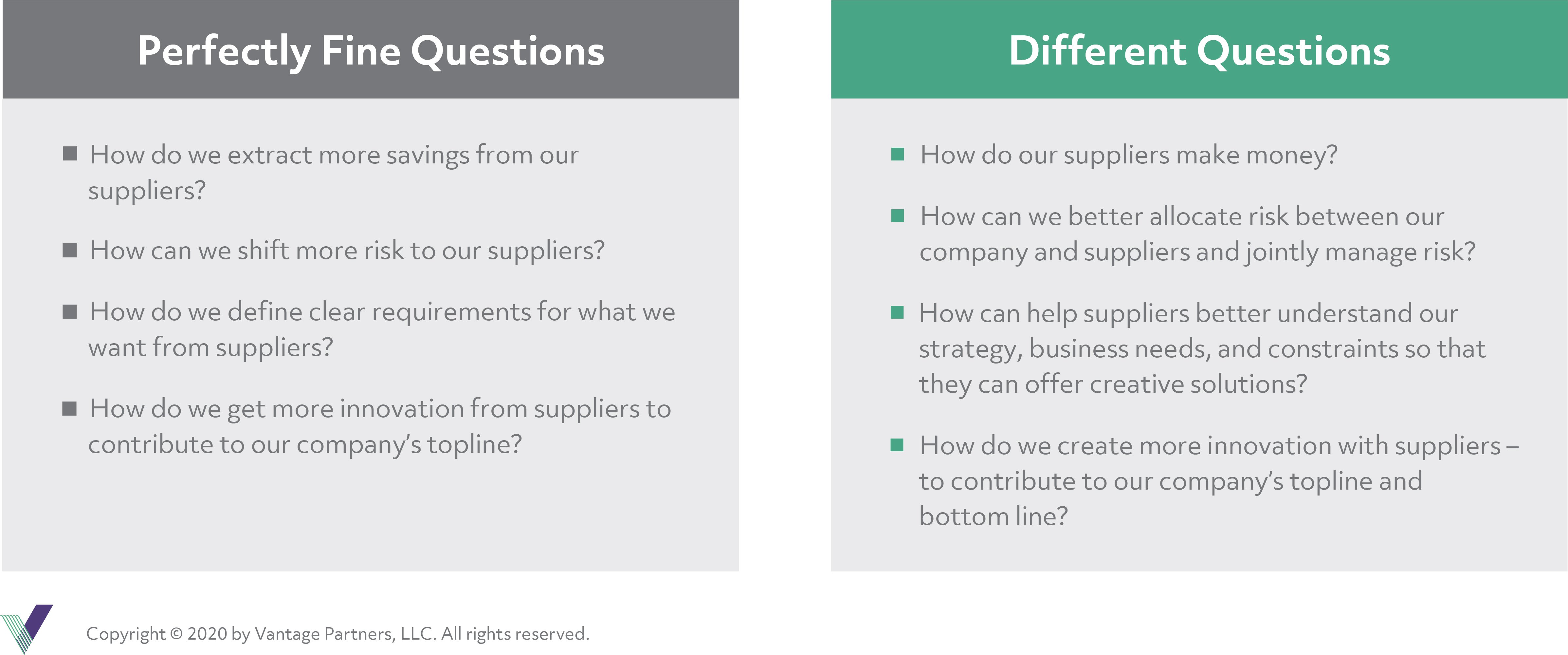 4. A dominant strategy for uncertain times: Become a "customer of choice."
While webinar attendees reported, on average, that more of their companies' current focus is on navigating the current crisis than on positioning for success during recovery, they also reported significant focus on the latter (Figure 7).
Figure 7: Focus of overall supply management efforts, in light of COVID-19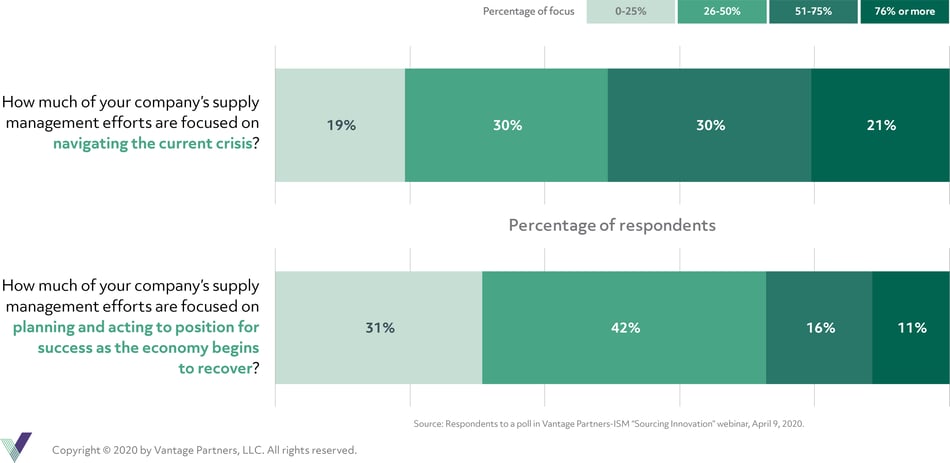 While each company confronts a unique set of trade-offs between addressing short-term challenges and longer-term opportunities, Jon emphasized that becoming a "customer of choice" for key suppliers is equally valuable in good times and bad, as shown in Figure 8 below (based on a multi-year global benchmarking study of supply management best practices).
Figure 8: The benefits of being a "customer of choice"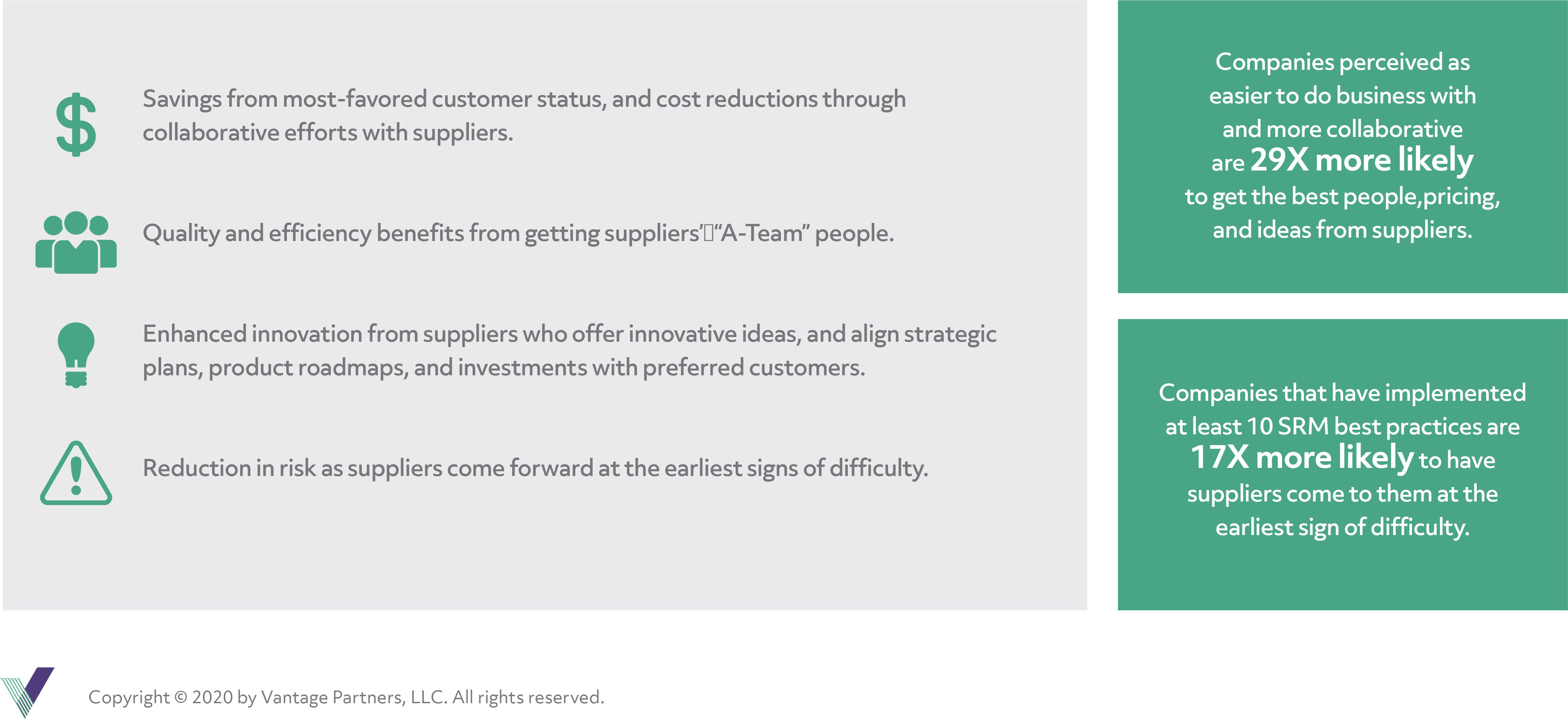 Click here to download a full copy of Jon's webinar presentation, with polling data from the live session.