The 2022 ASAP Global Alliance Summit was a memorable one. After three years away, it was so nice to be back together, see old friends, and once again learn how different alliance management organizations are keeping pace with company strategies that depend more than ever on external partnerships. With more and more alliances to support, the right team is as crucial as ever.
But great employees are in short supply and moving around like never before. Alliance management organizations are not exempt from the turnover challenges facing other functions, in most industries. When an alliance manager turns over, so does his or her relationships with internal and external stakeholders, alliance knowledge, and institutional know-how for navigating each of the organizations.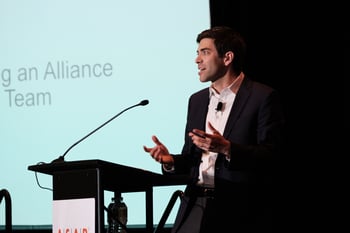 At this year's summit, I facilitated a discussion on how to build (and retain!) an alliance management team with a cross-industry panel of leaders — Katherine Kendrick, Head of Alliance Management at Jazz Pharmaceuticals; Laura McCluer, Vice President of Global Alliances at Xactly; and Steve Courtney, Head of Strategic Alliance Management at Evotec. A strong, cohesive, and consistent alliance management team can differentiate your company from the rest of the pack and increase your standing as a partner of choice. We need to be able to identify and recruit candidates who are a fit right from the start — and find better ways to retain them. The panelists and I discussed a variety of ways to do so:
Define a clear vision for your alliance management function and how it can bring value to the organization. A defined purpose with direct linkage to your organization's mission will ensure team members are clear on how their role is critical to company success.
Use business forecasts, clear metrics, and bandwidth reports to make it clear to company leadership when it is an appropriate time to invest in scaling the alliance management function. Solicit the support of your team members when doing this so that everyone is aligned around what is needed to be successful, and no needs are overlooked.
Spend time with human resources to define (and refine) what qualities make for a great alliance manager. Make sure feedback loops are in place about what certain individuals have succeeded and other failed to ensure candidates that are being put forth for consideration are more likely to be a great fit. Developing an alliance management competency model will go a long way to aligning on what the ideal candidate should have.
Seek to create a diverse team. While many strides have been achieved in hiring individuals with diverse backgrounds in alliance management, more can be done to ensure that different perspectives are brought forth, which increases the likelihood that we will be able to connect with our partners. Working in diverse environments also can increase employee satisfaction, an helping you retain some of your best talent!
Increase opportunities for face-to-face interaction. Many of us are craving in-person human interaction, visiting our partners, and traveling once again. While it can sometimes be difficult to justify the time and investment now that we have learned to operate remotely, ensuring our teams are well connected and feel a sense of community will help make our employees want to stay! Consider using professional development opportunities as one mechanism to bring people together. Learning together is a great way to build personal relationships.
Don't be afraid to find seek third party support. While we can do all we can to build and retain great teams, sometimes we just find ourselves with a gap. Having a third-party contractor or consultancy step in to fill the gap can be a great temporary solution (and is something we at Vantage have been seeing more and more requests for). In addition, the pandemic has resulted in many individuals leaving industry for a more project-based approach. In some respects, the talent pool as never been better for third-party support.
As we seek to smooth out all of the "bumps in the road" from the past couple of years, I'm eager to see how the next year or two plays out. My confident prediction: Alliance management organizations that maintain a clear vision and mission, are well supported by leadership, and invest in a sense of community are the ones most likely to attract and keep the best talent, and thereby ease the challenges so many of us face today.
Check out Vantage's virtual booth for the 2022 ASAP Summit, which curates some of our most useful research and insights for alliance management and partnership success.