Juneteenth recognizes the end of slavery in the US. We acknowledge and celebrate it both as a day of liberation and as a reminder of the progress still to be made. On Juneteenth, and every day, Vantage Partners stands in solidarity with the Black community as allies in the fight against racism and injustice.
Today, more than ever, we must engage in ways that acknowledge and respect all members of our communities. It is our duty as human beings to protect every individual from harm regardless of the color of their skin. Just as Vantage will not tolerate disrespect or intolerance in our teams, we should not tolerate it in our communities. We support everyone standing up against injustice and thinking together about how each of us can contribute to constructive discourse across differences.
"Deep down in our non-violent creed is the conviction there are some things so dear, some things so precious, some things so eternally true, that they're worth dying for," Martin Luther King, Jr., said in Selma, Ala., on March 8, 1965, the day after police attacked peaceful protesters attempting to walk across the Edmund Pettus Bridge. "We're going to stand up amid tear gas! We're going to stand up amid anything they can muster up, letting the world know that we are determined to be free!"
More than ever, we must stand up. We must further strengthen our commitment to diversity and inclusion at our firm, in our communities, as well as throughout the United States and the world. We must help and influence our communities to engage with greater empathy around differences. Most importantly, we must make undiscussable challenges not only discussable, but solvable.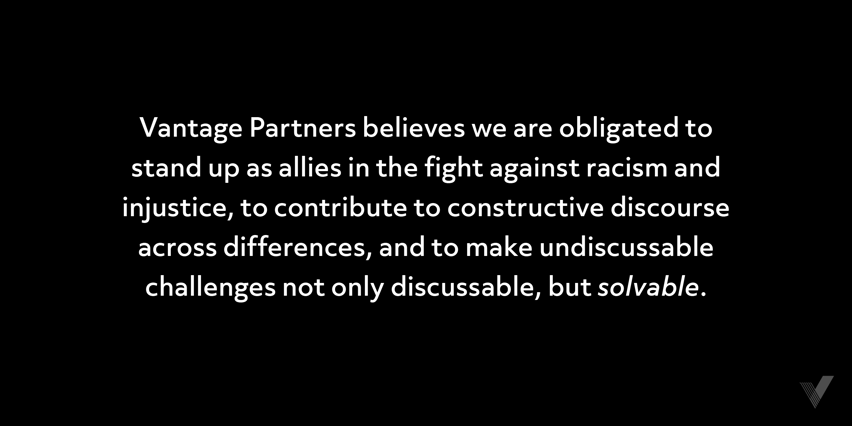 Stu Kliman, Liz Rayer, Jon Hughes, Jessica Wadd, Ben Siddall, Mark Gordon, and Danny Ertel are partners at Vantage Partners.