Vantage Partners Leads Three Sessions at Virtual 2020 ASAP Global Alliance Summit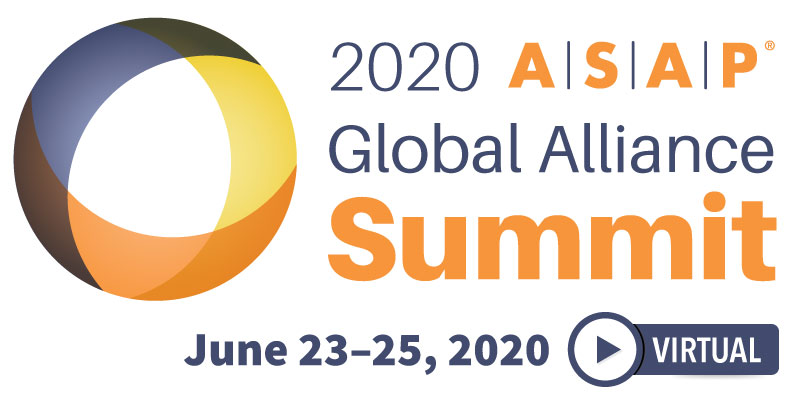 Vantage Partners to Lead Three Sessions at Virtual 2020 ASAP Global Alliance Summit: Managing Partnerships Between Large and Small Organizations, Tailoring Your Alliance Skill-Building Curriculum, and Integrating Alliance Portfolios Post-M&A
Vantage Partners announced today via PRWeb that executives from the global consulting and training firm will lead three sessions at the June 23-25 2020 ASAP Global Alliance Summit, now a virtual event. Vantage-led sessions delve into diverse real-world experiences and case examples of navigating partnerships with large and small partners, building alliance competencies appropriate to organizational maturity and context, and managing pharma alliance portfolios after acquisitions. Vantage is a Platinum Sponsor of the event.
"Managing Power Imbalances: How to Navigate Partnerships between Large and Small Organizations," is the topic of a livestreamed panel discussion moderated by Jessica Wadd, partner at Vantage Partners. Panelists will represent views from across both big and small companies across the Pharma and Technology industries.
"Partnerships between large organizations and smaller firms can generate massive value, but often bring unique management challenges," according to Wadd. "Differently sized firms need to confront initial alliance misalignment across several key dimensions, including in perceived and real power, appetite for risk, execution speed, and autonomy. What's the right alliance operating model to enable success? It looks good on paper, but will it hinder execution?"
"Alliance Management Skill-Building: Case Studies Across Industries," is a session led by Wadd and Ben Siddall, partner at Vantage Partners.
"Unfortunately, many alliance management functions fail to implement a skill-building program that is right-sized and designed according to the specific needs, structure, and maturity of their partnering organization," Siddall said.
Wadd and Siddall plan to draw real-world insights from multiple case studies of designing fit-for-purpose training programs to build alliance management competency in organizations from different industries and of different maturities. The session includes several interactive modules and activities, and tools to enable attendees to begin developing a plan for their own skill-building program.
"Big Pharma M&A and Alliance Portfolios: What's at the End of the Rainbow?" is a panel moderated by Adam Kornetsky, engagement leader at Vantage Partners. The past decade saw a frenzy of pharmaceutical deals, mergers, and acquisitions involving some of the biggest names in the industry. Kornetsky will lead a discussion among veteran alliance leaders about management of an alliance portfolio throughout an M&A process. Questions to be explored include: What are strategic considerations for acquirers—and the acquired? How is the value of the alliance portfolio characterized and communicated within large-scale M&As? How do you unlock and maximize this value?
Visit Vantage Partners' 2020 Summit overview page to receive a 30% registration discount courtesy of Vantage. Learn more and register for the event at www.asapsummit.org.