Three Can't-Miss Vantage Sessions at 2020 ASAP Global Alliance Summit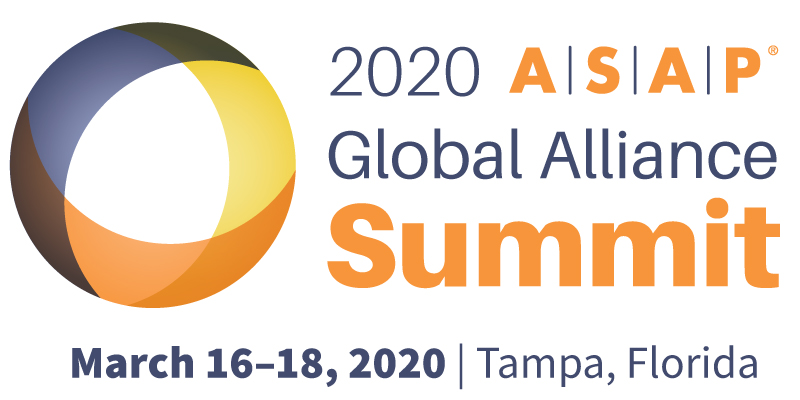 Note: Due to health concerns, ASAP has made the difficult decision to postpone this event. We will update this post and the event page with new dates as soon as possible.
Vantage executives will lead three sessions at the March 16-18, 2020 ASAP Global Alliance Summit. Vantage is a Platinum Sponsor of the event, held this year at the Renaissance Tampa International Plaza Hotel in Tampa, Florida USA. Vantage session topics include:
"Managing Power Imbalances: How to Navigate Partnerships between Large and Small Organizations," a panel discussion moderated by Jessica Wadd, partner at Vantage Partners [read more]
"Alliance Management Skill-Building: Case Studies Across Industries," led by Jess Wadd and Ben Siddall, partners at Vantage Partners [read more]
Big Pharma M&A and Alliance Portfolios: What's at the End of the Rainbow?"—a panel discussion moderated by Adam Kornetsky, engagement leader at Vantage Partners [read more]
Lessons Learned—from Diverse Perspectives—about Managing Power Imbalances
"Partnerships between large organizations and smaller firms can generate massive value, but often bring unique management challenges," according to Wadd. "Differently sized firms confront other differences—in perceived and real power, culture, processes, appetite for risk, execution speed, and autonomy." Wadd will explore the perspectives of panelists hailing from:
Big Pharma—Angela Boyhan is VP, Global Head, Alliance and Integration Management at UCB Biopharma
Small Pharma—Troy Windt is Head of Global Alliances and External Relations for Reata Pharmaceuticals
Large Tech—Joy Wilder Lybeer is SVP Enterprise Alliances and leads a portfolio of businesses for Equifax: enterprise alliances, connector partners, inside enterprise sales and its insurance vertical
Small Tech—Amy Walraven, is President, Chief Strategy Officer, and founder of Humaitrix
The panel discussion likely will draw upon ideas from Vantage's Harvard Business Review article, "Simple Rules for Making Alliances Work."
Right-Sized Skill-Building: Cross-Industry Case Studies in Fit-for-Purpose Training
"Unfortunately, many alliance management functions fail to implement a skill-building program that is right-sized and designed according to the specific needs, structure, and maturity of their partnering organization," Siddall said.
Wadd and Siddall will discuss key design considerations, how to sort through the options, and best practices for sustained learning, a topic discussed in Vantage's article, "When the Going Gets Tough: Enabling Collaborative Behavior Through an Alliance Management Training Program." They plan to draw real-world insights from multiple case studies of designing fit-for-purpose training programs to build alliance management competency in organizations of very different maturities. The case studies reflect different industries and differently structured alliance management teams, each of which has created its own distinct career development pathways. As one example, "Better Skills, Better Partnering" shares observations "from the trenches" on building capability at Bayer.
What Happens to Alliance Portfolio Value in Big Pharma M&As?
The past decade saw a frenzy of pharmaceutical deals, mergers, and acquisitions involving some of the biggest names in the industry. Typically, technologies, platforms, and assets are key drivers for the transactions—and in many cases mega-deals encompass (or impact) entire alliances portfolios across multiple therapeutic areas, stages of development, and commercial geographies.
Vantage's Adam Kornetsky will lead a discussion among veteran alliance leaders about M&As. How do you unlock and maximize this value? Panelists include:
Mark Coflin, VP, Head of Global Alliance Management, Takeda
Dana Hughes, VP of Integration Management and Alliance Management, Pfizer
Jeff Hurley, Senior Director Global Alliance Management Lead, Takeda
Chris Urban, Executive Director, Alliance Management and Acquisition Integration, Amgen
Post-merger alliance management starts with assessing and rationalizing the portfolio, a topic discussed in "Optimizing an Alliance Portfolio: Practical Advice for Managing Multiple Alliances."
Vantage-led sessions delve into diverse real-world experiences and case examples of navigating partnerships with large and small partners, managing pharma alliance portfolios after acquisitions, and building alliance competencies appropriate to organizational maturity and context.
Visit our 2020 ASAP Summit overview page to receive a 30% discount with our compliments. Learn more and register for the event at www.asapsummit.org.