Optimizing Your Alliance Management Operating Model: Considerations from CHI's 2020 Strategic Alliance Management Congress
by Mai-Tal Kennedy and Jack Simonds
Vantage Partners was proud to be the premier sponsor for Cambridge HealthTech Institute's (CHI) 2020 Strategic Alliance Management Congress. While we all wish we could be together in person, we wanted to extend kudos to the organizers at CHI for putting on an engaging and thought-provoking virtual event. As in the past, this conference featured insightful presentations from leaders across Biopharma alliance management. We were so excited to deliver three sessions at this year's conference, outlined below:
Adam Kornetsky and Isaac Block led an interactive pre-conference workshop on "Successfully Executing Digital Partnerships"
Mai-Tal Kennedy moderated a panel on the enablers of Successful Biopharma/Diagnostics Partnerships
Ben Siddall and Stuart Kliman delivered a keynote presentation discussing "Biopharma Digital Partnering and its Impact on Alliance Management."
Please do not hesitate to reach out if you'd like to further discuss any of our sessions.
Optimizing your Operating Model: A connecting thread across many presentations
One prominent theme we heard across presentations was the challenge – or opportunity – of creating, and transforming, alliance management operating models. At Vantage Partners we have found that a helpful way to begin this process is to ask, "what is my organization trying to achieve from partnerships?" The answer then ought to drive where and how the Alliance Management function focuses its efforts.
To help visualize the approach to working through this question - about the role of partnerships and how to design a function that enables them - consider an overarching organizational alliance management capability across four layers, as set out below.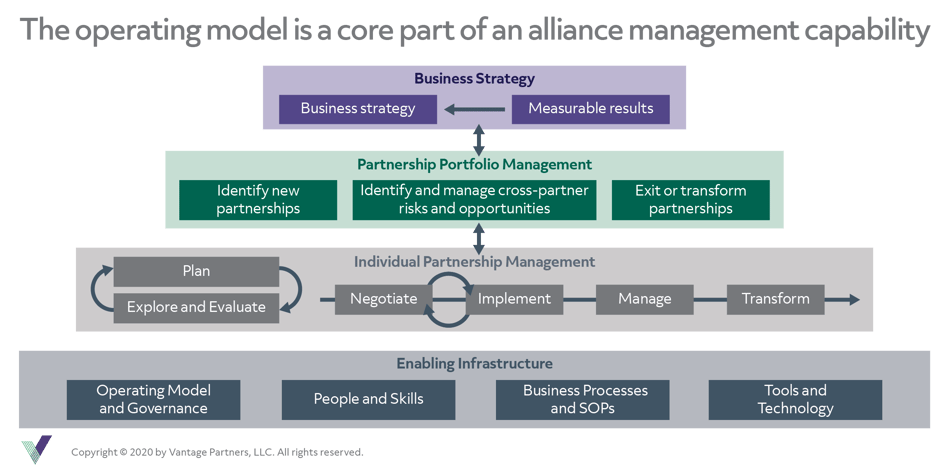 Working through each layer of the above model can help clarify which alliances sit within the portfolio managed directly by the Alliance Management function, and what needs to be designed and built to enable them.
A key question: should we structure our Alliance Management function to be centralized or decentralized?
As part of conference presentations, we heard examples of Alliance Management functions employing centralized and decentralized structures. For example, Michael Kennedy, Senior. Director of Alliance Management, Business Development and Licensing at Bayer, discussed how his organization recently shifted their Alliance Management function from a centralized to decentralized structure – and shared a few of the drivers and considerations supporting each of the two approaches. The table below provides a high-level overview of some additional considerations when structuring your Alliance Management function.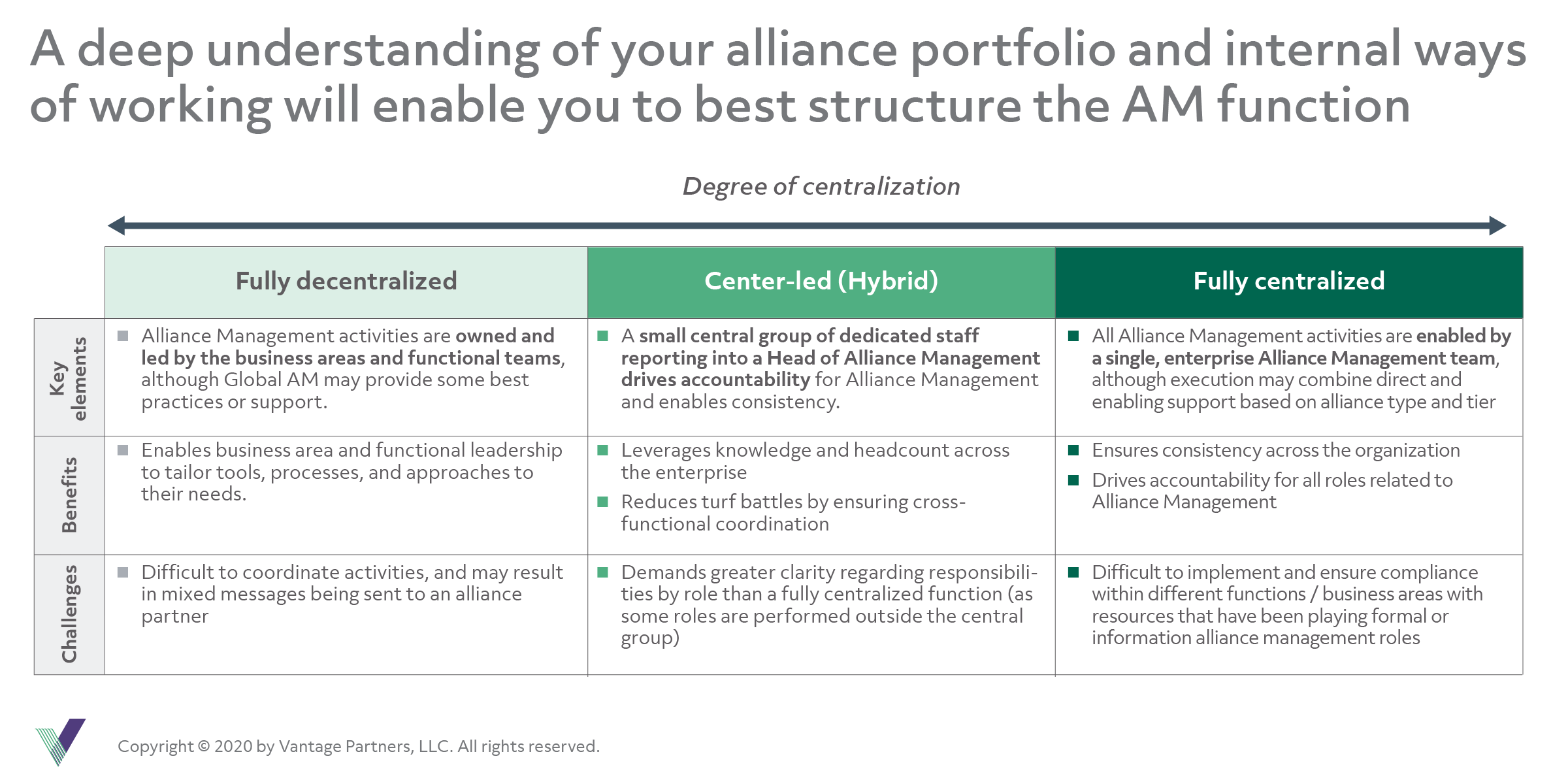 To help determine the right model for your organization's Alliance Management function, consider:
How are adjacent partner-facing functions structured?
What 'ways of working' might you need to build across your organization to effectively manage alliances?
How can Alliance Management drive the greatest impact within your organization?
Of course, there won't be a static, right answer to this question! Your organization and the role of alliances within it may change over time and require adjustments to your Alliance Management structure (similarly to the process that occurred at Bayer, as described by Michael Kennedy).
How do you know if your alliance management operating model is fit-for-purpose?
One way to determine if your alliance management operating model is meeting your organizational needs is to develop, and assess against, success indicators. Consider assessing the operating model against the below sample questions.
Does your operating model….
Share and deploy best practices across alliances?
Send alliance partners consistent messages?
Align alliance initiatives, particularly with alliance partners that cross multiple therapeutic areas?
Identify and address systemic challenges and opportunities for improvement?
Optimize allocation of resources across alliances?
If you answered "yes" to every question – great – your alliance management operating model is working well for your organization. If you answered some questions with "no," consider what the underlying causes might be, and how your operating model can be improved to drive better outcomes going forward. As Eric Lawrence (Director, Global Alliance Management at BMS) reminded us at CHI, "there is nothing permanent except change." So, remember to periodically check-in on your alliance management operating model to ensure you are driving the greatest value for your organization.