Successful leaders today behave in ways that help them, those with whom they work, and their organizations thrive amidst uncertainty, complexity, and change. As adaptive leaders, they avoid getting "lost in the matrix organization." Instead, they manage the matrix—the predominant design for organizations of all sizes today, according to a six-year Vantage Partners study. More than 70% of the study's 750-plus respondents, reflecting a diverse cross-section of more than 500 companies, report that complexity impedes the quality and speed of decision-making and innovation in their organizations "some" or "a great deal." This complexity can create conflict and make it difficult for leaders to work with other seemingly unreasonable counterparts.
The Impact of Organizational Complexity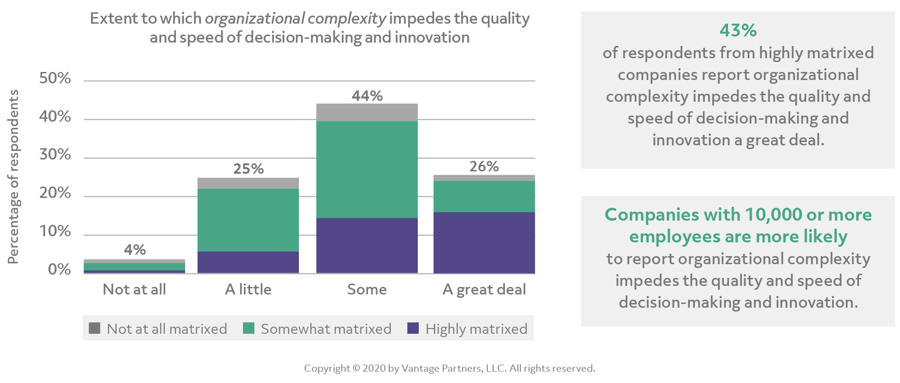 Other essential behaviors of leaders include the ability to influence, build trusting relationships, and collaborate with others. Leaders today—at every organizational level—adapt and creatively solve problems. And just as adaptive, collaborative leaders perform multiple roles, they also approach leadership on multiple levels—namely, as leaders of themselves, of their teams, and of the business.

The leader of self is self-aware, possessing the emotional intelligence to manage his or her own emotions—and those of others. Self-leadership starts with knowing one's role, owning one's style, demonstrating trustworthiness, and building one's resilience for the turbulent voyage of leading through accelerating change.

The leader of others manages teams and drives performance. Leading others on the team involves not just prioritizing and delegating tasks and managing commitments, but also requires communicating in ways that motivate, inspire, and build trust; aligning around a shared vision and finding a common destination for often diverse voyages; and harnessing the friction of creative differences and conflict to spark action and innovation.

The leader of the business navigates the organization and across its external landscape of partners, alliances, customers, and other stakeholder relationships. Those who lead the business "lead according to need." Leading the business elevates the key elements of team leadership to the cross-organizational level, aligning tasks, behaviors, and goals of the self and team behind the mission and goals of the organization.