From inside-out to outside-in
The essence of sales is connection — between a company's products, services, and capabilities on the one hand and customer needs on the other. Effective salespeople combine knowledge of their company's solutions with a deep knowledge of their customer's business and the challenges and opportunities they face.
Depending on a company's business model and strategy, such connectivity may be primarily a function of curation (identifying which products and/or services are most relevant to a given customer) and explanation (showing how those products and/or services directly address one or more customer business needs). Alternatively, this connectivity sometimes involves cross-functional efforts to configure customized solutions for customers or develop new, bespoke solutions that leverage a company's unique assets and capabilities.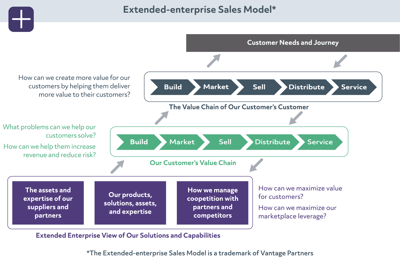 The key to sales success is to start from customer needs and then map back to a company's solutions. Sales and account teams need to understand their customers at a deeper level by analyzing the needs of the customers they serve. This creates a foundation for solution-oriented selling focused on helping customers succeed by enabling them to deliver more value to their customers.
Have you ever had a supplier negotiation turn sour and wonder what you should have done differently? In real life, there are no do-overs. That's why we created the Supplier Negotiation Challenge, a "Choose Your Own Adventure"-style exercise that asks you to navigate a difficult supplier negotiation.
Insights | Putting the Strategic Back in Strategic Account Management
SAMs, because they sit at the nexus of two companies — their own and their key account — are constantly pulled in multiple, often conflicting directions. It's easy to be consumed by urgent opportunities and challenges — to the detriment of thinking and operating in a fully strategic way.
Read Article>