Alliance Competence: Maximizing the Value of Your Partnerships
Robert Spekman and Lynn Isabella
2000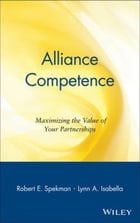 Strategic alliances are becoming more and more essential to the viability of a company. These alliances are pervasive throughout the corporate landscape and have a big impact on the way business is conducted across the globe. Written by strategy experts from the University of Virginia's prestigious Darden School, Alliance Competence combines the latest research and case studies to explore the key aspects necessary to develop a successful alliance.
Enhanced by a five-year study of global companies, this book offers unique insights about building the foundations of alliance competence. These competencies provide firms with a source of sustainable competitive advantage that will help them compete more successfully in global markets. Through actual "war stories" the problems and challenges that alliances tend to face are revealed, as well as concrete suggestions for managing through the evolutionary cycle.
After examining all the research available, the authors introduce a process they've developed called The No Blame Review(TM) (NBR). This collaborative, nonjudgmental process helps alliances constructively confront times when the alliance seems off track. The NBR creates an objective, nonthreatening, and non-value-laden opportunity for alliance managers and strategic sponsors on both sides to raise, investigate, and review serious issues. It also allows partners to check the alliance's vital signs and to make a determination that all systems are in alignment. This process provides the most positive approach to conflict resolution.
The insight, real-world examples, and research featured in Alliance Competence will give you the tools and diagnostics necessary for locating potential allies and creating a successful alliance.
To order your copy, click here